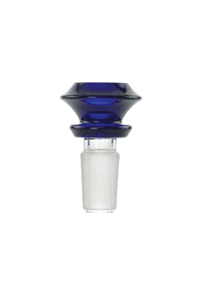 Every feature of the glass was designed with care, and the Jane West bowl is no exception. The bowl's unique curved outer lip is both elegant and ergonomic, allowing for a graceful pull and clear. Each Cobalt bowl is hand blown on heavywall borosilicate tubing with custom tapered joints that make an airtight seal and an awesome impression. 
*Party tip: purchase extra bowls to have filled and displayed at your next gathering for a more sanitary and memorable guest experience
Customer Reviews
12/03/2021
Dennis

United States
Great bowl!
Been using the Jane West beaker as my daily for years now, but it hasn't been the same since breaking the original bowl that it came with. So glad to be able to purchase replacements here. It's a great looking bowl that works perfectly. Not huge, but holds a decent amount of flower. I love this bowl and the bong it goes with, as well as the JW bubbler and spoon. These pieces are top quality and beautifully designed. The bowl is no exception. This collection is awesome, and the stores customer service is also wonderful and very helpful. Thanks!
11/22/2021
Louis W.

United States
Cobalt bowl
Excellent received quickly to the mail.